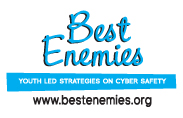 Who is Best Enemies?
Filmmaker and cyber safety expert Ross Bark and his brother, Technology Policy Specialist Darren Bark were inspired to create the short film 'Best Enemies' to target young people & online bullying.

The idea stemmed from a personal story, which touched the lives of the Bark Family, involving vicious & severe bullying of a young 15-year-old family friend.

The film encouraged the need for prevention-based education to provide resources to young people, parents, teachers, workplaces & the wider community about cyber bullying & the role of social networking and online privacy.

The Best Enemies Education program began in 2009 and illustrates the issues of sharing information online, false identity and online social relationships through the Best Enemies 12-minute film.

What does Best Enemies provide?
Best Enemies Education provides proactive and preventative approaches to cyber safety and anti-bullying.

The Best Enemies program delivers interactive workshops directly into schools and organisations Australia wide and provides educational resources in conjunction with the Australian Teachers of Media (ATOM).

Who does Best Enemies work with?
Best Enemies has partnered with the Bully Zero Australia Foundation and works with schools, youth organisations, teachers, parents and young people to address the causes and consequences of cyber bullying, online privacy and digital reputation.
The program has been recognised and commended by the Parliament of NSW for its 'outstanding work in endeavouring to address and reduce the incidence of bullying in Australia and supporting victims and their families of bullying'
For further details click here: http://www.parliament.nsw.gov.au/prod/parlment/hansart.nsf/V3Key/LC20130320006

The program is also accredited by the Australian Teachers of Media (ATOM) and supported by Southwest Connect, Mission Australia, Ku-ring-gai Youth Development Services (KYDS), MTC Work Solutions, Jobslink Plus, Youth Action and Policy Association NSW (YAPA) and various government organisations across Australia.

Ph: 02 9402 5745
Email: programs@bestenemies.org
www.bestenemies.org
Presented by