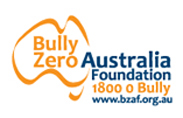 Vision of Bully Zero Australia Foundation
The mission of the Bully Zero Australia Foundation is to provide genuine and enduring care for bullying victims and their families. We exist to identify and empower bullying victims, to support and stand side by side with them, their families and friends in taking action and creating permanent positive change.
We are passionate about establishing a no-tolerance culture of bullying in Australia & will work tirelessly to ensure that anti-bullying laws are implemented & enforced Nationally.
We aim to provide young people with education to prevent bullying & work with bullies & their families to help create positive behavioural changes.
We stand united in our quest to create a tomorrow where our children & adolescents live a fulfilling life free from bullying.
To protect & empower Australians to live a fulfilling life free from all forms of Bullying
Our Pledge
Provide young people with strategies to stand-up to bullies & speak out about bullying & harassment.
Provide support to those who are experiencing bullying & their families.
Work to support the introduction of uniform anti-bullying legislation nationally.
Victims & Families
We offer online & face-to-face support for victims of bullying, including grieving & distressed family members.
There are a range of platforms we can be contacted on including mobile phone applications, via our website, e-mail, Facebook page, Twitter & our 24 hour
1800 0 BULLY hotline.
We can also refer you to professional guidance & counselling services should you require additional Support
We offer online & phone support to those seeking guidance through our hotline, smart phone application & various social media platforms.
Prevention & Education Legislation
We are working towards lobbying state & federal governments to introduce uniform anti-bullying legislation across the nation.
If bullied who to call and where to get advice and help?

Bully Zero Australia Foundation 24 Hour Hotline on 1800 0 Bully (1800 028 559).
Presented by